Here is an article from May 69 Super Stock magazine on the

day at Orange County Raceway with pictures of Shahan and

the prototype car and first hoodscoop: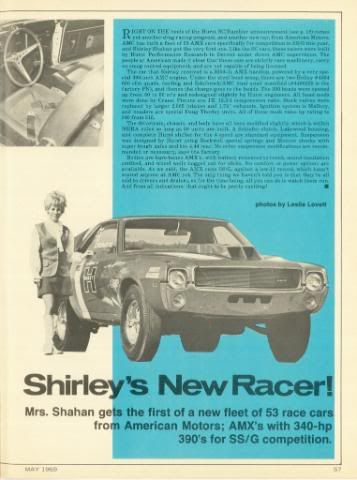 So far, we know a prototype car was made about Dec 68,

tested in Florida, and shown in California with Shahan to AMC

dignitaries. Hurst sold the idea to AMC the same time they

sold the SC/Rambler idea. A letter was sent out asking for

50 orders. A second letter went out stating they needed a

few more orders. The car was given the green light, and

shipped to Hurst. There is a picture of at least 20+ white cars

in the Hurst facility. AMC stated they had enough orders to

homologate the car with the NHRA, and was sending VINs and

owner names to get the process started.
The cars had some items removed to save weight, such as

hood springs, radiator filler, heater assembly, core support

bars, hood latch assembly, and had block-off plates for the

heater assembly, radio, and there was no clock, or

undercoating. It was a 390 4-speed drum brake car with a

4.44 posi rearend, no power steering or brakes. Hurst

supplied a crossram intake with two specific Holley carbs, a

Mallory distributor, velocity stacks, a new shifter and handle,

one-piece axles, and a special scoop. Also a clutch assembly

with a blowshield. The battery was relocated to the trunk.

Most of the owners would be dealers. Most received their

cars through regular car delivery, but some picked them up-

either from the Ferndale, Michigan Hurst facility or a local

marshaling yard.

To support the owners, AMC sent a number of performance

bulletins to help them during the season. AMC and Hurst

sent telegrams whenever they could. Here is Performance

Bulletin #1, as part of the introduction letter: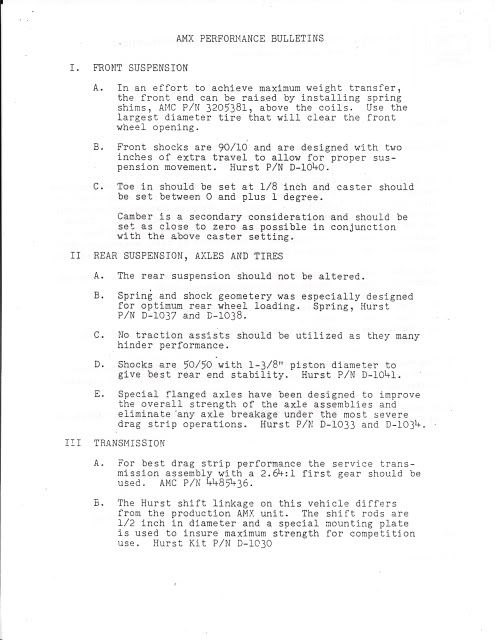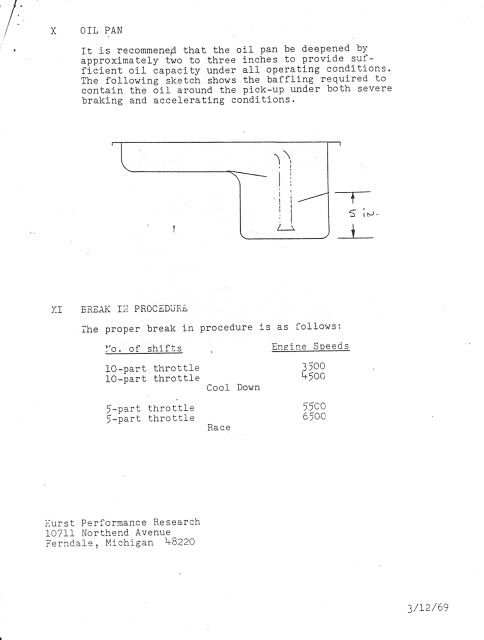 It is dated March 20, 1969 meaning this is when the cars

started to ship out.
We now know the car had special front 90/10 front shocks,

complete with a Hurst part number. There are also special

rear shocks (50/50), special rear axles, and special rear

springs, with two part numbers, meaning they were left and

right, not interchangeable.
Stock tranny, and a new shifter with a reverse lock-out that

has a different mounting plate (which is why they cut the

floor) and different rods. Was the rest the same?
New flywheel, bolts, clutch disc, and pressure plate. Also

came with a blowshield (though interesting, not a driveshaft

loop).
Stock fuel pump, special heads reworked by Crane.
Recommendation for tolerances, oil pump modifications, etc.
Here is the next bulletin, #2: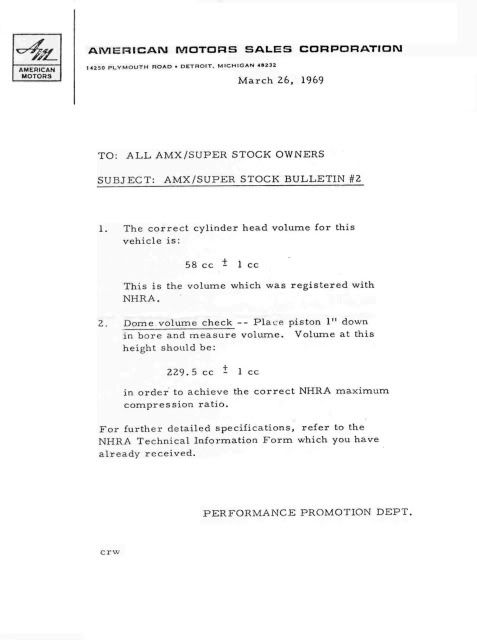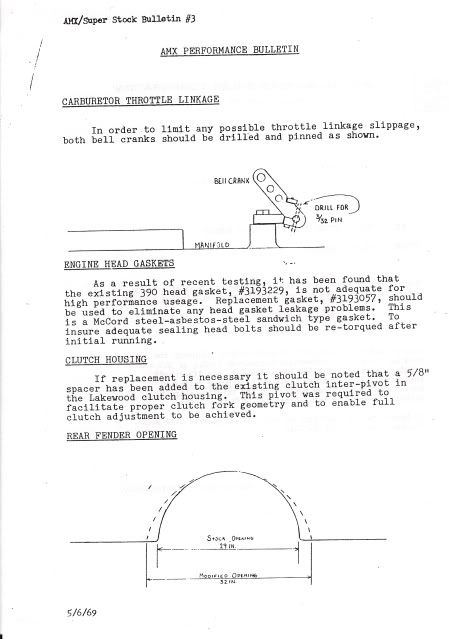 Needs better head gaskets-care to speculate how they found

this out? Ouch!

Slipping linkages for the carbs.

New clutch linkage geometry.

And why would they show the rear wheel opening configuration?

FYI-because some owners stated to me (hearsay evidence) their

cars did not have modified rear wheelwells.
Bulletin #3-the car was originally to be classified as SS/G,

but now we see it is SS/E.
Bulletin #4: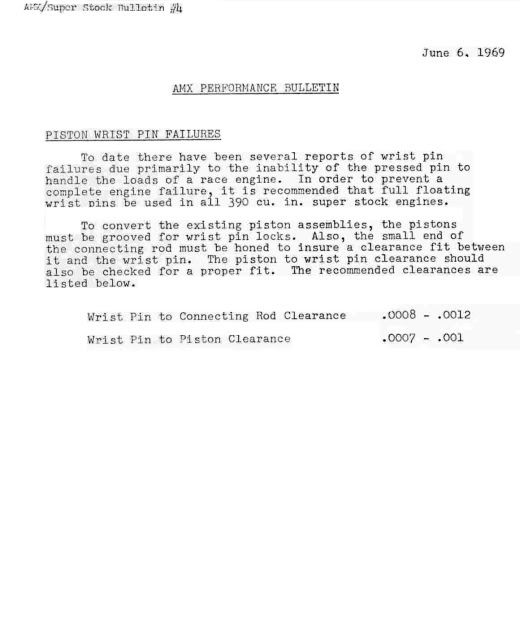 Wrist pin failure? Another ouch! I wonder how many blocks were

lost? Dated June 6-the owners have had their cars for two

months now.


Bulletin #5:


I wonder if anyone was disqualified for having the engine at the

wrong spec? October 10, 1969-the season must be almost over at this time.
So that is the seven Performance Bulletins I have. If there

is an 8th or more, I would love to get a copy.
To jump ahead a little bit and place these out-of-order, here are a

few bulletins from 1970: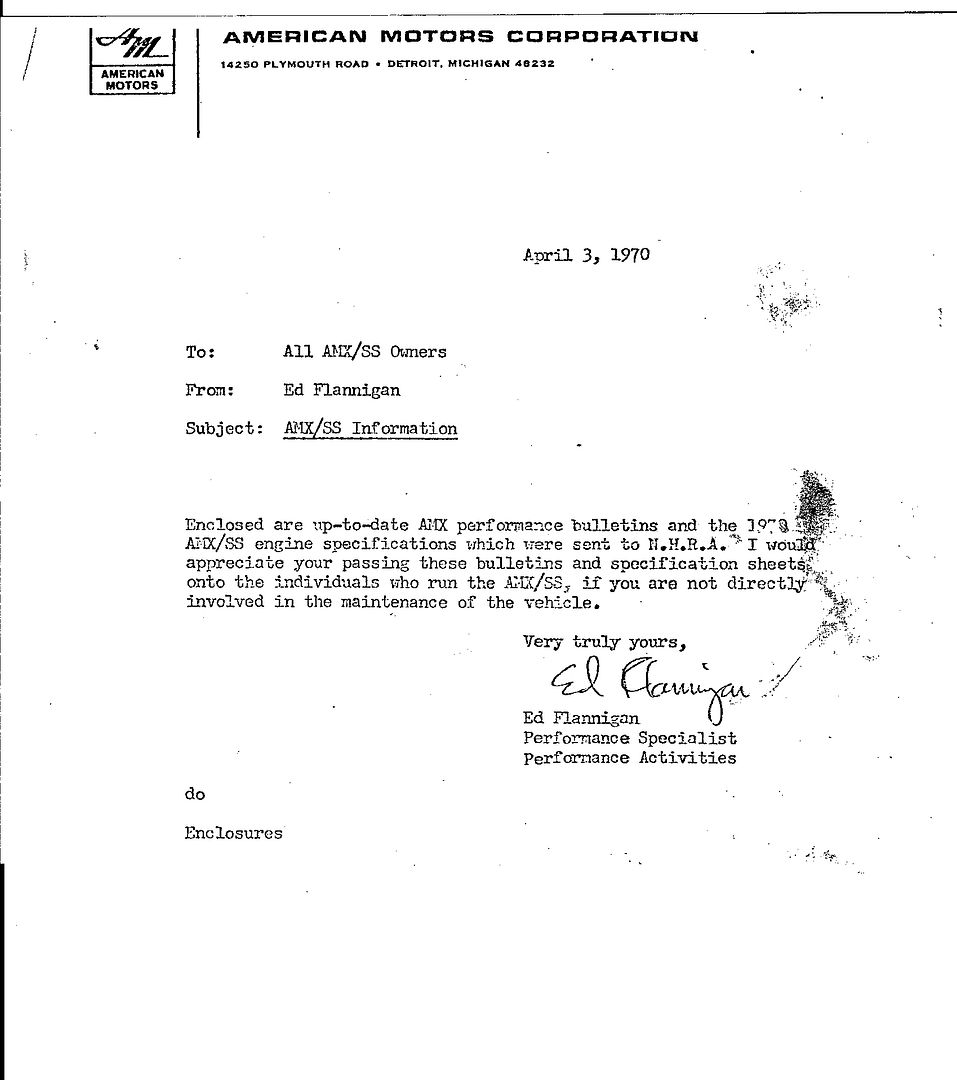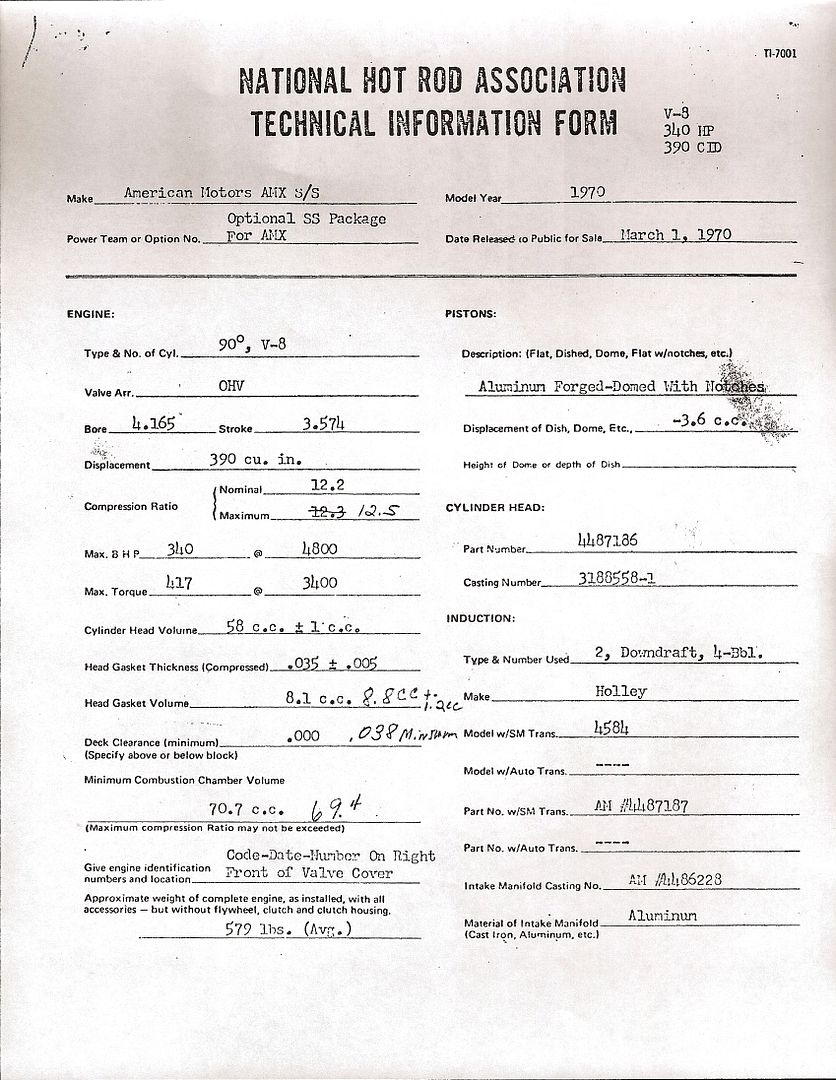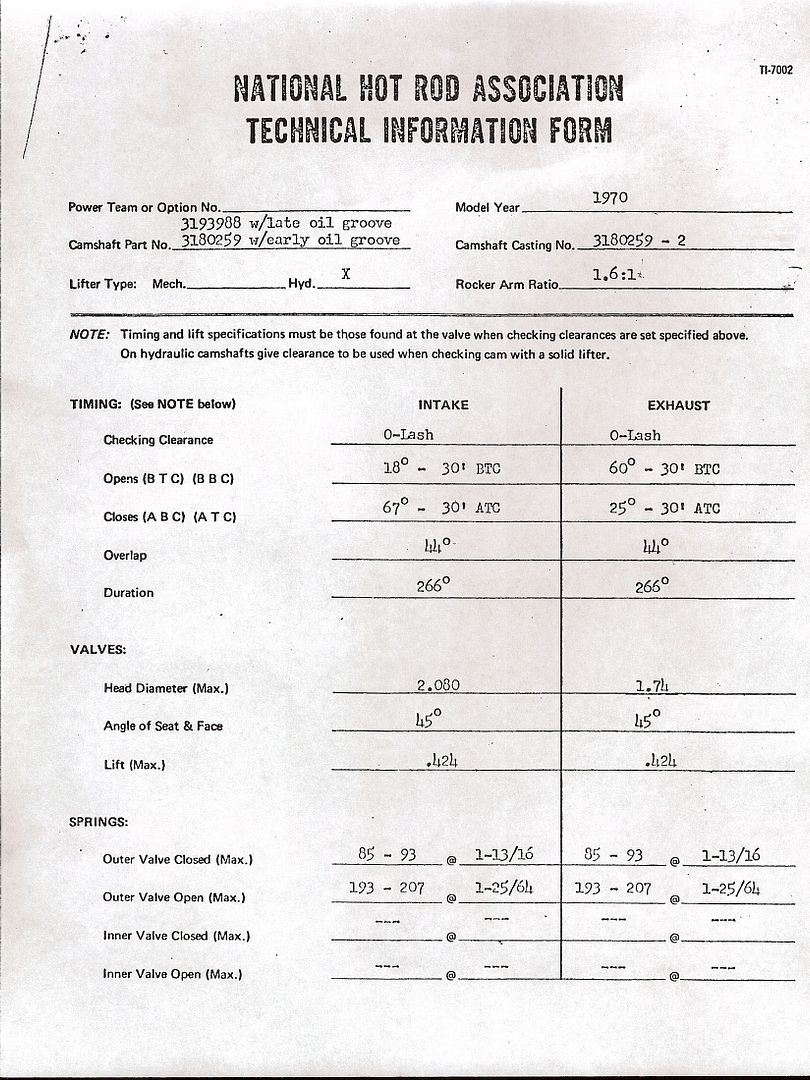 These were the exact same specs as outlined in the 1969 sheets-as

a matter of fact, the only differences between the two is the model

year changed, and the form is from 1970. (Compare to the 69 sheet

posted).
However, there was a mistake as shown here: