Talitsch Rose and American Image


1969 VIN:
A9M397X213560

1970 VIN: A0M397X183245 (1970 #37)
Hurst Build #:
1969 Selling Dealer:
Lake Ridge Auto Corp
US Rte 6

Mahopac, NY
Fred Fink (Owner)
Originally sold to another dealer, then resold through Lakeview Motors.


1970 Listed Dealer:
Lakeview Motors, Inc
(aka: Lakeview Rambler)
Westwood (Woodcliff Lake), NJ
Louis M. Franzetti (Owner)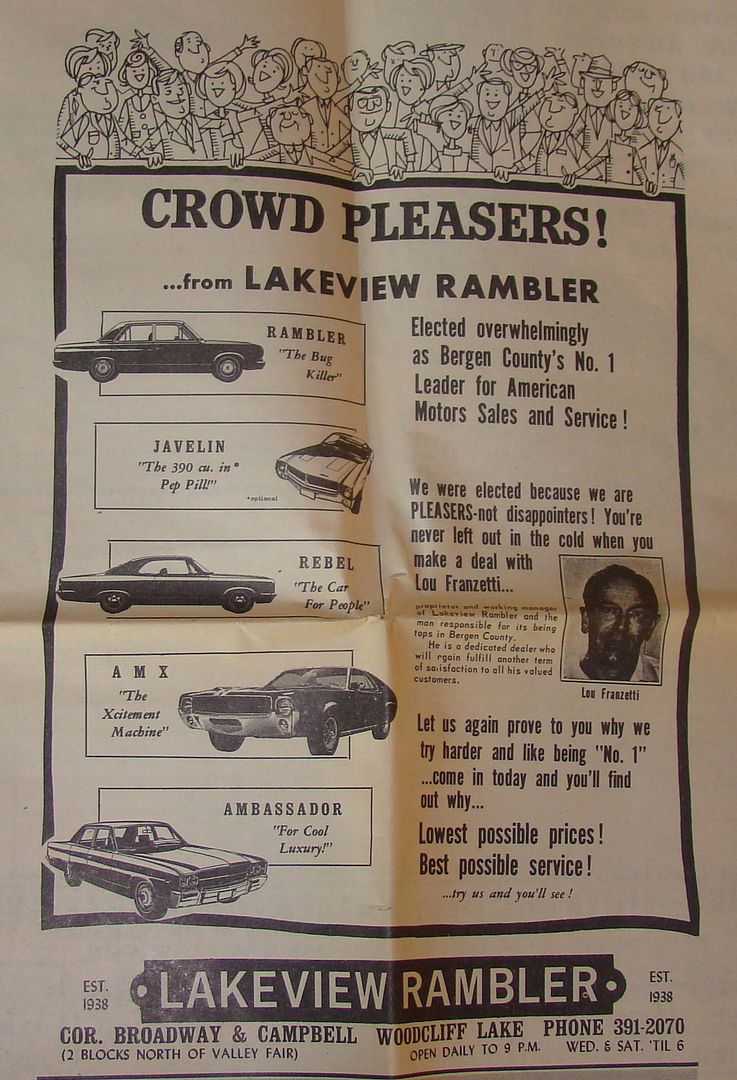 Name: Talitsch Rose and American Image
Misc: Red/White 2 Different Paint Schemes
NHRA Events: 1973 Summernationals,
Traveling ten car Super Stock group


Here is the very first of the 52 Hurst Super Stock AMXs

from AMC. It is first because it is the lowest serial number,

the number also shown on the parts book and paperwork

sent to the NHRA as the first VIN. For years people reported

Shirley Shahan received the first car-well, she did. AMC

was in a real hurry to get the cars out, especially to a name

like Shahan, and they made sure she got the very first

car.....the first Hurst COMPLETED car. Yes, her car would be #35

by the VIN, but you didn't think Hurst/AMC modified the cars in

order of their VINs, do you? They were all the same-#35

just happened to be the first random car completed.








Ken Rose was racing his SC/Rambler for Lakeview Motors when he was approached by the local AMC rep about campaigning a Super Stock AMX. Lake Ridge Auto of nearby Mahopac, NY agreed to take one of the cars so AMC could reach the goal of 50 cars, but was having a difficult time selling it. Ken immediately agreed and the car was shipped to Lou Franzetti's Lakeview Rambler of Woodcliff Lake, NJ. (The car arrived before Lou even knew about the deal). Ken raced the car for a few weeks as a Red, White, and Blue car, but then had it painted by Bob Talitsch (Thus the name Talitsch Rose). Ken said he went through 3 engines in a matter of weeks, but AMC sent not only replacement engines, but cranks, rods, and three sets of Crane heads (and each set was different). Ken also said he modified the corssmember so the center section dropped out, and ran a Dana 60 rearend. Besides the dealership, Speedwin Auto was also a sponsor.

Ken raced the car for the 69-70 season. When not racing, he owned a local Firestone dealer. One night the car was stolen from the Firestone dealership and the drivetrain removed. He recalled he ran a best of 10.07 @ 128 mph.

Ken was also proud of the fact that he represented the Super Stock AMC group along with Flemington Rambler in a new traveling group set up by the NHRA. There were ten cars, two from each manufacturer, and they were given $1,000 just to show up.

After he received the AMX, the SC/Rambler was sold by the dealership without the lettering, but it is not known where it went.




Name:


Misc:
NHRA Events:


1-3

Owner: Tom


NHRA Events:

In a conversation with Tom, current owner of this car, he found an
interesting piece in a toy store of all places. Remember this Johnny
Lightning SC/Rambler?




Here is a close-up of the picture:





As you can see, it is the "American Image" from Lakeview Rambler
of Woodcliff Lake, New Jersey, raced by Ken Rose-before he raced the AMX!

Here is the AMX now:

Here is an article from Super Stock Magazine about Ken and his
SCRambler:

And on it noticed my father Ken Rose of "The American

Image" 1969 AMX 390.

My father would like to know where you got all of this

information. It is bringing back a lot a fond memories for him.

Please let me know where you got most of your information.

We also noticed that there are some cast iron matchbox style

race cars that were produced of his Rambler.

He never knew they were being made. We bought one off Ebay.

Please any additional information that you can provide would

be great.